We want credit unions to succeed. That's why we support continuous education for employees and volunteers in the credit union movement. We give credit unions an opportunity to take advantage of professional training and education courses, conferences, and professional certification programs.
The Foundation provides scholarships and grants to assist credit union staff in achieving professional excellence. If you are interested in advancing your credit union career, Cornerstone offers a wide variety of educational opportunities.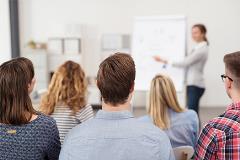 Credit Union Development grants are available to Cornerstone credit unions in Arkansas, Oklahoma, and Texas, and credit unions may receive one credit union development grant a year.
Credit Union Development grants include, but not limited to, the following:
Annual Training Calendar - Staff and Volunteer Training Opportunities offered by or through the Cornerstone League or industry related organizations. (Southwest CUNA Management School scholarships must be applied for separately.)
Credit Union Development Educator Program
Planning Sessions
Equipment for CU Branches & Offices
Hardware and Software Upgrades
Mobile Deposit
Online Banking
Hispanic Outreach Initiatives
Audits and Assessments that are not required annually or biennial
Eligible Audits and Assessments for Grant Assistance:
Internal Audit
Cyber Security IT Audit
Cyber Security Assessment Toolkit
Penetration Testing
Network Vulnerability Assessment Testing
ATM Safety Evaluation
Shared Chief Information Officer
Policy/Writing and Review
Website Compliance Review
Fair Lending Risk Assessment
Audits and Assessments Not Eligible for Grant Assistance:
Supervisory Committee Annual Review
BSA Audit
Member Account Verification
ACH Audit
ACH Risk Assessment
748 Cyber Security Risk Assessment
BSA/OFAC Risk Assessment
SAFE Act Review
FACTA Red Flags Risk Assessment
Vendor Due Diligence

, Online

This virtual workshop is open to staff, directors, and volunteers at member credit unions with less than $100 million in assets.

, Online

Join the Cornerstone Accounting & Finance Council to learn basic strategies, tips, and best practices for creating and managing a budget.

, Online

This webinar will help you build a solid foundation of asset/liability management basics.
Questions?
For questions if a specific need is eligible for grant assistance, please contact Grants Manager Emily Moreno.