Exhibitor/Sponsor Information
Cornerstone welcomes financial product and service providers looking to gain credit union visibility to participate in one of our trade shows/events.
When you exhibit and/or sponsor with Cornerstone, you are given a unique marketing opportunity that cannot be accessed anywhere else. Our goal is to help your company maximize the return on your investment. We do this by taking an active role in providing you with resources and opportunities to help meet your company's marketing and sales goals.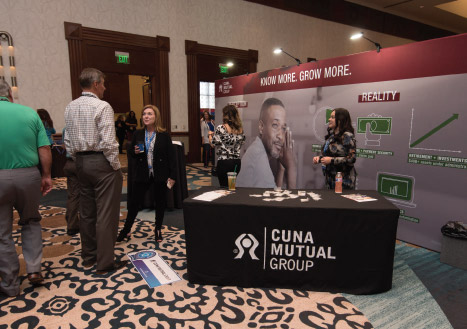 Benefits of Becoming an Exhibitor and/or Sponsor
Gain access to industry buyers and decision makers within our credit union membership of more than 600 credit unions located throughout Arkansas, Oklahoma, and Texas.
Establish name recognition by showcasing innovative products and services that assist our member credit unions.
Demonstrate industry support for credit unions and standout among your competitors.
Participate in an open forum, which allows you to meet face-to-face with your current customers at one time in one location, while growing your client base.

Trade Show Opportunities
In today's competitive environment credit unions are searching for cutting-edge technologies, products, and services. For these reasons, Cornerstone annually hosts trade shows in conjunction with our largest events.
ELEVATE a virtual experience
We are pleased to announce Cornerstone's first ever virtual trade show taking place during our newly created "ELEVATE Credit Union Leaders" virtual event September 1-3, 2021. ELEVATE is 3 events rolled into 3 days featuring topics on executive leadership, diversity and inclusion, board governance and next level leadership for young professionals. This event is open to all credit union professionals across the country.
Annual Meeting & Expo
This annual event gives our credit union members the opportunity to address and vote on issues pertaining to legal matters on the running of Cornerstone League. The target audience for this event are CEOs, president, board and volunteer committee members, and other various credit union staff. As our largest event, the trade show features an exceptional array of service providers and features the latest products and services available in the credit union industry.
Save the date for next year's conference: April 7-9, 2021! Check back later for more details.
Leadership Summit & Executive Forum
This annual event is designed to give our credit union membership the opportunity to mingle and network, while expanding their knowledge, discovering trends, and gaining new tools and techniques that will help them excel in their important role of providing direction for the credit union industry. The target audience for this event are leaders, CEOs, presidents, COOs, CFOs, board and volunteer committee members and other various credit union staff.
Save the date for next year's conference: September 8-10, 2021! Check back later for more details.
Sponsorship Opportunities
At Cornerstonewe have numerous sponsorship opportunities available throughout the year that fit a variety of budgets. In sponsoring with us, we find ways to actively market on your behalf to our over 600 member credit unions. In doing so, we find ways to maximize your company's marketing dollars and return on investment.
Items available for sponsorship:

Food & Beverage
Board Luncheon & Gift
Continental Breakfast
Expo Hall Reception
Annual Meeting Golf Lunch & Beverage Cart
Hospitality Suite
Hydration Station
Lunch
Refreshment Break

Branding Opportunities
Attendee Door Drop
Lanyards (Exclusive)
Pocket Program (Exclusive)
Program Book Ads
Tote Bags
Tote Bag Inserts
Attendee Gifts (Specialty Items)

Face to Face
Keynote Speaker (Exclusive)
General Session Speaker (Exclusive)
Autograph Session
Breakout Sessions Day 1, 2 or 3
Vendor Presentations
CSR (Community Service Relations) Event
Guest Program
Sponsor a Young Professional Registration
Sponsor a Small Credit Union Executive/Board Member Registration
Questions?
For additional information on exhibiting or sponsorships, please contact Brandon Walker, Events & Exhibits Manager at 469-385-6426.