Consumer Awareness Initiative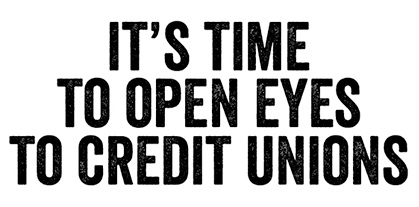 In 2019, Cornerstone went "all in" and joined CUNA's "Open Your Eyes" Consumer Awareness Initiative, a cutting-edge tech- and research-driven consumer awareness effort. In 2017 and 2019, we delivered a consumer awareness initiative that was 100 percent digital, targeting consumers 18-34 years old who had yet to open their eyes to credit unions across the Cornerstone footprint.
Since then, Cornerstone has worked closely with CUNA, helping targeted audiences open their eyes to credit unions, one state at a time.
Benefits of "Open Your Eyes"
The benefits of "Open Your Eyes" to Cornerstone's credit unions are numerous. The scale, potential impact, and commitment to a singular voice and single message are the driving forces behind Cornerstone's ardent support of this initiative.
Regional advertising and communications programs will help debunk the myths that prevent consumers from considering credit unions.
An updated image for credit unions in a rapidly changing financial services marketplace
Alignment of coherent messages seen and heard by consumers wherever they are in the country implicitly suggests a far-reaching and consistent offer from a national network of financial service providers that put their members first.
Access to creative content, research briefings, and other material credit unions can employ in their own marketing programs to build market share.

What is "Open Your Eyes?"
Open Your Eyes to a Credit Union® is a digital advertising initiative aimed at increasing consumer consideration of membership in credit unions. Research shows that consumers knew about credit unions (98 percent of Americans have heard of a credit union), but that 72 percent weren't likely to consider membership in one. Open Your Eyes aims to increase consideration by overcoming two widely held myths about membership:
I can't join
Accessing my money may be hard
"Open Your Eyes" Supporters in the Cornerstone Region
Arkansas
Alcoa Community FCU (Benton)
Cooperative Extension Service FCU (Little Rock)
Dillard's FCU (Little Rock)
Hurricane Creek FCU (Benton)
Pine FCU (Pine Bluff)
Priority FCU (Russellville)
Subiaco FCU (Subiaco)
UP Arkansas FCU (North Little Rock)
Oklahoma
Allegiance CU (Oklahoma City)
Arbuckle FCU (Ada)
Cherokee Strip CU (Ponca City)
Communication FCU (Oklahoma City)
Oklahoma Central CU (Tulsa)
Oklahoma's CU (Oklahoma City)
True Sky CU (Oklahoma City)
TTCU FCU (Tulsa)
WEOKIE FCU (Oklahoma City)
Western Sun FCU (Broken Arrow)
Texas
1st University CU (Waco)
A New Direction CU (Dallas)
A+ FCU (Austin)
Allied FCU (Arlington)
AMOCO FCU (Texas City)
Amplify CU (Austin)
Baylor Health Care System CU (Dallas)
Border FCU (Del Rio)
Caprock Santa Fe CU (Slaton)
Community Resource CU (Baytown)
Doches CU (Nacogdoches)
Energy Capital CU (Houston)
First Class American CU (Fort Worth)
First Service CU (Houston)
Houston Highway CU (Houston)
InvesTex CU (Humble)
JSC FCU (Houston)
KBR Heritage CU (Houston)
Linkage CU (Waco)
MCT CU (Port Neches)
Members CU (Cleburne)
Members Trust of the SW FCU (Houston)
MemberSource CU (Houston)
Metro Medical CU (Dallas)
My CU (Watauga)
Neighborhood CU (Dallas)
Prestige Community CU (Dallas)
PrimeWay FCU (Houston)
Randolph-Brooks FCU (Universal City)
Resource One CU (Dallas)
Sabine FCU (Orange)
Select FCU (San Antonio)
Shared Resources CU (Pasadena)
Smart Financial CU (Houston)
Southland FCU (Lufkin)
Southwest 66 CU (Odessa)
Space City CU (Houston)
Tarrant County's CU (Fort Worth)
Texas Health CU (Austin)
Texas Trust CU (Mansfield)
Transtar FCU (Houston)
University FCU (Austin)
Victoria FCU (Victoria)
Ready to Help Open Consumers' Eyes?
Together, we can help match more consumers to their best financial partner - credit unions.
Cornerstone and CUNA have a funding model in place that allows for credit unions to contribute the lesser of two amounts - $1 per member or asset-based funding tiers - for 2019-2021.
Contact Cornerstone Director of Communications & Media Relations Tanya Dittberner to learn how you can begin participating today.