Credit Union Webinar Network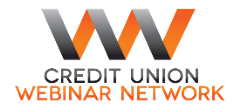 Cornerstone is pleased to offer access to the Credit Union Webinar Network in partnership with Financial Education & Development, Inc.
Webinars are provided on numerous topics that are relevant to credit unions today. You can choose to register for a specific webinar or an entire series of webinars with related subject matter. If you can't attend a live webinar, archived webinars are available beginning 6 business days after the webinar and will expire 6 months after the live program date.
Questions?
If you are having trouble with registering, receiving hook-up instructions, or signing into the webinar, please contact Financial Education & Development at 406-442-2585.