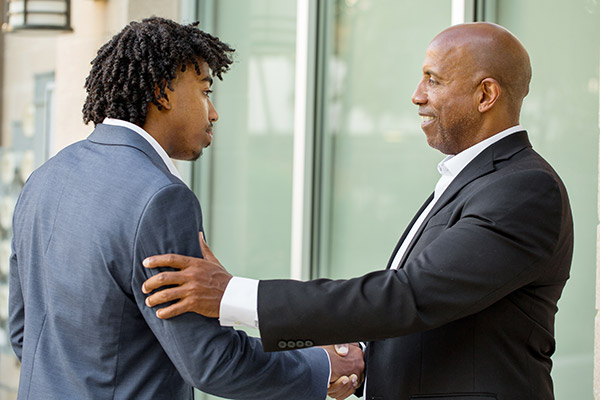 Realizing the challenges many credit unions face in today's environment and understanding that many credit union professionals, staff and volunteers have a variety of resources and needs, the Cornerstone League developed the Collaboration Program to formalize collaborative partnerships.
The goal of the Collaboration Program is to provide opportunities for collaboration among interested credit unions and/or credit union individuals with a sharing of best practices and intellectual resources for career enhancement, technical guidance, leadership/management skill development, organizational modeling, and interpersonal/relationship skill building. Credit union members choosing to participate will indicate their desire to serve as either a mentor (provides guidance) or mentee (receives guidance).

Participants will determine the role they wish to play in the Collaboration Program and register online as a mentor or mentee.
Cornerstone will notify registered participants when a suitable match is found.
Each participant will sign a Collaboration Program agreement with their collaboration partner and the Cornerstone Credit Union League.
Both mentor and mentee will agree to a collaborating process without the intent of a merger.
Interested participants will take part in an introductory conference call hosted by the Cornerstone Credit Union League. Each participant will provide a bi-annual update of the collaborative partnership to Cornerstone.
After the introductory process, participants will then begin interactions designed to achieve the following:
Provide a sharing of best practices and information between participants.
Create a partnership environment that is conducive for the developmental growth of credit union employees, volunteers and/or management.
There is not an expectation that participants will incur any hard expense other than that of time.
Questions?
If you have any questions regarding the Credit Union Collaboration Program, contact Kati Buchanan, Engagement Manager at 800-442-5762 ext. 6424.