Sharing good food and recipes with others is often how we show we care and offers a heartwarming way to connect. The Foundation's newest project, Cooking with Cornerstone cookbook, offers a way for the Cornerstone community to connect while also raising funds for your Cornerstone Foundation.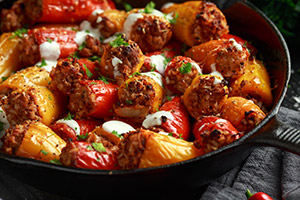 We request your assistance to make this fundraiser a success. The most important step in creating any cookbook is gathering the best recipes. Please share your favorite recipes with the Foundation so they can be shared with your peers across the country. You know the recipes - those everyone asks for.

Please submit your recipes by Sept. 18.

Purchase Information
Cooking with Cornerstone will be available for pre-sale starting October 1. The cookbook will be ready by the first of December and will make great holiday gifts for staff, board members, family, and friends and don't forget YOU!

All proceeds from the cookbook will support the general disaster relief fund, allowing the Foundation to assist credit union staff and volunteers when unforeseen disaster strikes.
Your participation will truly make a difference in the lives of others in the Cornerstone region.