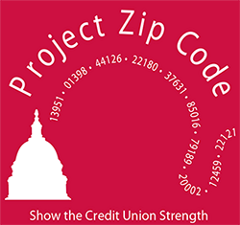 Project Zip Code, sometimes called PZC, is a powerful, secure, and user-friendly program that counts your credit union members and matches them by state legislative district, congressional district, and county. These counts are uploaded to CUNA's Project Zip Code website and combined with data from other credit unions nationwide.
Why Participate?
Participation in Project Zip Code will also provide operational benefits for your credit union. You will be able to view the number of credit union members by geographic area, which may be useful in ATM placement and shared branching. Additionally, your data will be matched with the most accurate legislative district information available which will aid in your federal and state advocacy efforts. Project Zip Code software provides you with powerful tools to search and download this useful information.
Software Information
Project Zip Code software is compatible with most databases and will not affect your existing data. Your members' personal information is secure with Project Zip Code. When running PZC you will be required to create a secure login and password. After creating these, you will upload your data to the secure server. On the secure server your data will be matched by legislative district and county and encrypted. Once the data is matched, you will receive a notification email and be asked to securely login and download your encrypted data. After you have downloaded your totals, only the number of credit union members per legislative district and county will remain in the national database. The resulting master census demonstrates the strength of credit union membership across the nation. To view the national database information please visit www.pzconline.com.

Software Update - Version 19.0
Project Zip Code (PZC) 19.0 is now available for download.
Questions
For questions about Project Zip Code, please contact April Krause, Political & Grassroots Director, at 800-442-5762, ext. 6487.