Financial empowerment is critical to our communities' stability, and credit unions are poised to do their part to develop more capable and competent citizens. To adequately prepare our youth for adulthood, credit unions must empower them with the tools, information, and decision-making skills necessary to achieve financial freedom.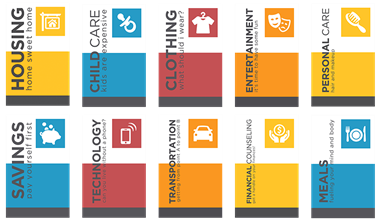 Available Options
Cornerstone Foundation and BALANCE are offering two personal finance simulations designed to help students strive to create a BALANCED Life.

Reality Fair

Classroom Simulation
Having these available options allows you to serve your community and meet their needs at an affordable price. With BALANCED Life, you get two options with one shared goal of offering practical and powerful ways to help today's youth learn the importance of managing a household budget for long-term financial success.
Purchase a Kit
To find out about the many benefits and what you receive with the purchase of both simulations, view the BALANCED Life Facts Sheet.

Please read the purchase agreement prior to making your selection. Once purchased, a Foundation representative will contact you to confirm your order and provide shipping costs. You will receive a separate invoice for any shipping costs associated with BALANCED Life: A Reality Fair.
Questions?
For more information or to schedule a demo, contact Foundation Financial Capability Director Marina Garcia at 469-385-6448.