Support Financial Capability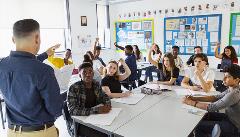 Financial capability is at the core of the Foundation's mission. We support and provide various programs, grants, trainings, and materials for financial capability geared to diversely impact all communities from cradle to grave. To prepare our youth for adulthood and keep adults on top of their finances, we empower them with the tools, information, and skills necessary to save and invest in their future. The Foundation provides grants and scholarships for programs that promote or implement financial education in schools, community-based organizations, and through credit unions.
Financial Capability Network
In order to maximize the impact of financial capability in the Cornerstone region, the Foundation created the Financial Capability Network, comprised of credit union professionals who have a like passion for financial education and who share the philosophy of people helping people.
Why Join?
The Financial Capability Network is made up of credit union professionals that share a passion for empowering others to improve their financial well-being. As a network member, you will receive a quarterly newsletter to keep you up to date on current Foundation activities and other relevant industry related financial capability information. You may also receive occasional e-mail updates and continual opportunities to communicate and collaborate with others in the region.