CUNA Member Activation Program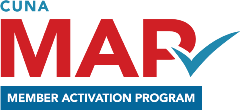 CUNA has partnered with credit unions on an extensive research project to better understand the impact of advocacy-related communications. Surveying over 70,000 credit union members in 2014, we found that advocacy communications not only succeed in activating CU members but also increase members' loyalty bond with their credit union.
Visit the CUNA website to learn more about this program.
Education

Not only is this an advocacy tool, it's a way to educate your members on the credit union difference.
More Engagement
Advocacy communications make members feel more connected to your credit union.

More Business
82% of members are more inclined to do business with your credit union after receiving advocacy communications.
More Satisfaction
Self‐described credit union "members" view credit unions 89% more favorably than banks.
Testimonials
"I've communicated with my membership on multiple occasions and have only received positive feedback on the way we engage with them using MAP. Research shows that credit union members who receive these types of messages from their credit union CEOs actually become more loyal members, and that seems to hold true for us as well. Not only does MAP provide an avenue to communicate our advocacy message, but we have found it's also a great educational tool."

- Angela McCathran, CEO, People's Trust FCU
"Engaging members to advocate for our credit unions is important. Often our elected representatives don't realize the impact of regulations on our members and community yet they will be voting for or against those measures. There is greatness in numbers and real voices. Our members can make a positive impact for common sense regulations and similar initiatives for all credit unions by making their voices heard because our elected officials will pay attention."

- Crystal Long, CEO, GECU
Participating Credit Unions
A+ FCU
Alcoa Community FCU
Alliance CU
America's CU
American Airlines FCU
Amplify FCU
Arbuckle FCU
Border FCU
Cherokee Strip CU
City Public Service/IBEW FCU
Combined FCU
Communication FCU
Community Resource CU
Community Service CU
Corner Stone CU
Cosden FCU
Credit Human FCU
Doches CU
Domino FCU
Eastex CU
Education CU
Education First FCU
EECU
El Paso Area Teachers FCU
First Abilene FCU
First Central CU
First Class American CU
First Community CU
First Oklahoma FCU
First Service CU
FirstLight FCU
Fort Worth City CU
GECU
Houston Highway CU
Houston Metropolitan FCU
Houston Texas Fire Fighters FCU
Hurricane Creek FCU
JSC FCU
LIFE FCU
Mobiloil FCU
My Community FCU
Navy Army Community FCU
Neighborhood CU
Northeast Arkansas FCU
Oklahoma's CU
One Source FCU
Our Mother of Mercy Parish FCU
People's Trust FCU
Pine FCU
Port of Houston Whse FCU
Promise CU
Red River Emp FCU
Resource One CU
Rocket FCU
San Patricio County Teachers FCU
Santa Fe FCU
Security First CU
Shared Resources CU
South Texas FCU
Southland FCU
Southwest 66 CU
Southwest Financial FCU
Space City CU
SPCO CU
Tarrant County's CU
Texans CU
Texas Assn of Professionals FCU
Texas People FCU
Texoma Community CU
The People's FCU
Tinker FCU
TruService Community FCU
TTCU - The Credit Union
Tyler City Emp CU
UARK FCU
Union Square CU
United Texas CU
University FCU
WEOKIE CU
WesTex Community CU