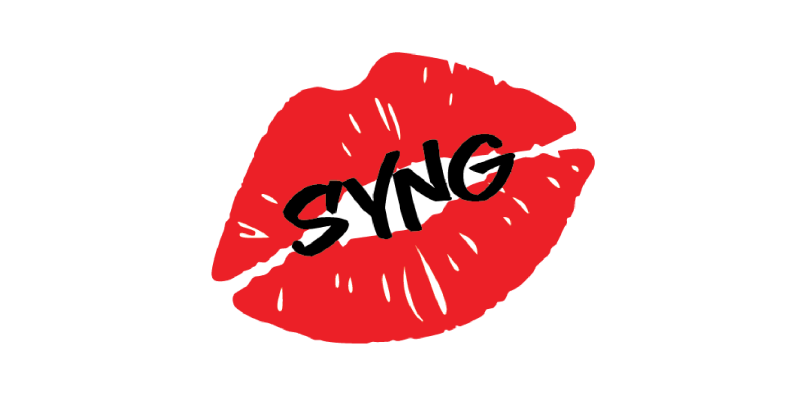 SYNG raises funds for Foundation; TFCU earns bragging rights
Posted: Sep 16, 2020 | Author: Carrie Buchholz
The Cornerstone Foundation treated audiences to the sweet sound of music and light-hearted entertainment. SYNG, a unique, virtual lip-sync event, is designed to raise funds for the Cornerstone Foundation.
Attendees were invited to sit back, relax, and tune in to cheer on their credit union colleagues as they competed for the ultimate bragging rights. Following the virtual performances, the audience was encouraged to vote for their favorite "SYNGERS" and were given the option to donate. Including sponsorships and votes, SYNG raised $59,000 for scholarships and educational training grants, financial capability initiatives, and emergency assistance for credit union staff and volunteers when disasters strike.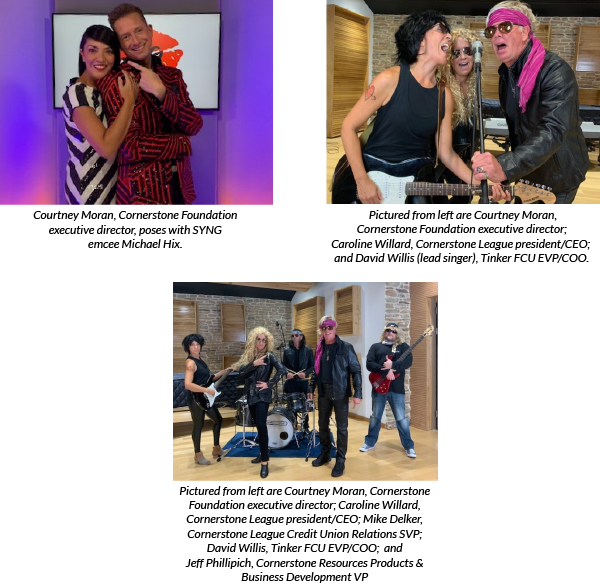 Emceed by Michael Hix, the opening act was led by the Cornerstone Young Professional Advisors, who compiled a lip-synced video to 90s hit songs such as "Bye Bye Bye" and Snoop Dogg's "Who Am I." Other performances were presented by members of the Dallas and Fort Worth Chapters of Credit Unions, who achieved bragging rights as the runner-up act. Staff from Tinker Federal Credit Union, who performed "You Can't Always Get What You Want," won the competition with 19,650 votes, which translates into $19,650.
The final act consisted of two parts, honoring Mike Kloiber, former Cornerstone League board member and President/CEO of Tinker FCU. This will be the last SYNG event for Kloiber, who will be retiring next year.
The first part was performed by a motley crew of credit union leaders, including Cornerstone League President and CEO Caroline Willard, Cornerstone Foundation Executive Director Courtney Moran, Cornerstone League Credit Union Relations SVP Mike Delker, Cornerstone Product & Business Development VP Jeff Phillipich, and lead singer Dave Willis, EVP/COO for Tinker FCU, who lip-synced Bon Jovi's "It's My Life." A surprise performance of "God Bless the USA" by country music artist Lee Greenwood concluded the tribute.
Moran said the event was a hit and is already looking forward to next year. "We have all been walking through uncharted territory the last few months, but we have done it together. We are incredibly grateful for our sponsors, acts, and our viewers who understood that the show must go on, even amidst a pandemic."
She added, "I want to extend a huge thanks to our sponsors, CUNA Mutual Group, Cornerstone Advisors, Cornerstone League, Cornerstone Resources, CO-OP Financial Services, Catalyst Corporate FCU, Allied Solutions, Credit Union Defense Council, Tarrant County's CU, and Kearley & CO."